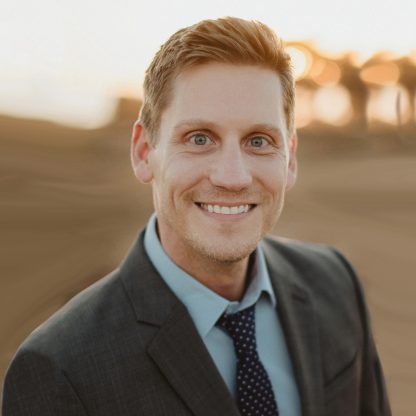 J. Jacob Jenkins
J. Jacob Jenkins (Ph.D., Communication; B.A., Architecture) is Campus Coordinator for CSU's Affordable Learning Solutions (aka, "OpenCI"), Founding Director of The California Alliance for Open Education (CAopenEd), and Department Chair and Tenured Professor of Organizational Communication at CSU Channel Islands (CSUCI).
As a Campus Coordinator for OpenCI, Jenkins helped establish CSUCI as a national leader in textbook affordability. Since launching in 2016, OpenCI has benefited 70K enrollments, saved students over $8.5M dollars, and pioneered the 1st three zero-textbook-cost undergraduate majors (aka, "Z-Majors") in the entire CSU system – and perhaps the entire nation.
In 2021, Jenkins also helped launch The California Alliance for Open Education (CAopenEd). CAopenEd was created to scale OpenCI's success to a larger, external audience by "Equipping campus leaders across California's higher education system with the cross-collaborative training, guidance, and resources needed to help reduce course material costs and increase student success."
For his efforts to improve student equity in higher education, Jenkins was recognized as the California State Student Association's 2020 "Faculty of the Year," and Ventura County Leadership Academy's 2019 "Educational Leader of the Year." Jenkins also received CSUCI's 2019 "President's Award for Innovation in Teaching & Learning," CASE's 2019 "Gold Circle of Excellence Award," and the National Communication Association's 2018 "Engaged Scholar Service Award." He was selected for the National Communication Association's "Teachers on Teaching Spotlight Series" in 2016, and as a Finalist for CSUCI's "Maximus Teaching Award" in 2015, 2017, and 2019.
In addition to his role as OpenCI's Campus Coordinator and CAopenEd's Founding Director, Jenkins has published over 50 academic papers on organizational leadership, inclusion, and innovation. Sample works include the recent article "Textbook Broke: Textbook Affordability as a Social Justice Issue", and his book "The Diversity Paradox: Seeking Community in an Intercultural Church."
Jenkins currently lives within walking distance of the Pacific Ocean with his wife, son, and daughter. He has a passion for travel, having visited 6 continents and 30 countries. During his free time, he enjoys film, live music, spicy food, and stimulating conversation.