The Open Education Awards for Excellence is celebrating its 10th anniversary, and while the awards have traditionally highlighted specific individuals, resources, and practices, on this special occasion we want to acknowledge the collective impact of the community. Together we stand for a world of openness where every open education practitioner, supporter, advocate, and enthusiast from around the world have made a difference.
The 2021 OE Awards winners will be announced progressively and by categories. To start the celebration and in line with this years conference theme, the first award to be announced is the UNESCO OER Implementation Award. A category introduced in 2020 in support of the UNESCO OER Recommendation.
The Open Education Global is honored to present the first community OE Award to all the presenters in the OE Global 2021 conference for their exemplary leadership in advancing the UNESCO OER Recommendation in their own practices.
---
OE Global 2021 conference presenter, this award is for you!
2021 UNESCO OER Implementation Award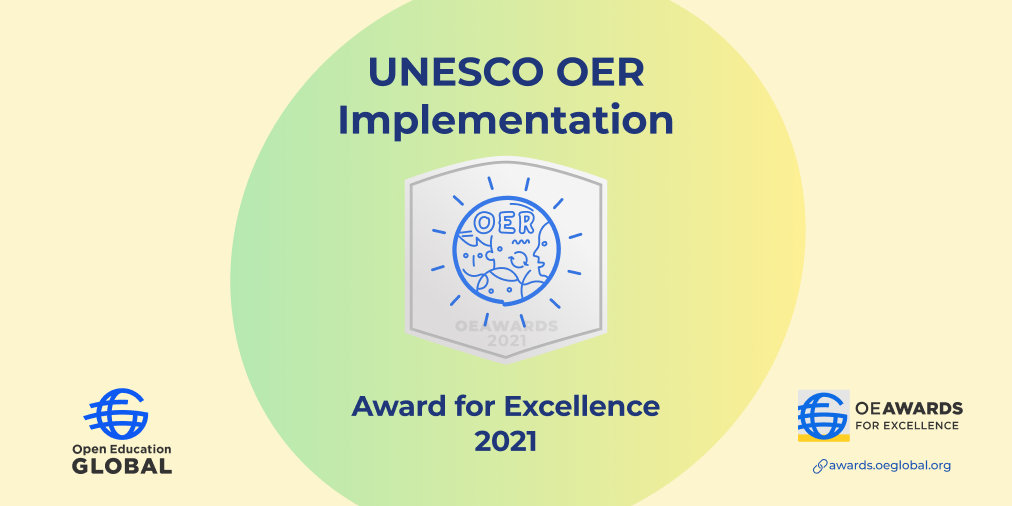 Congratulations and thank you!!
Abdolali Faraji · Ada Czerwonogora · Adeline Bossu · Aisha Al-Sinani · Aleksandra Czetwertyńska · Alexa Johnson · Alexander Mikroyannidis · Allan Peejay Lappay · Alyssa Ortiz · Amadou Diawara · Amy Song · Ana Fabjan · Ana María Sandoval Poveda · Ana Sofia Miranda de Albuquerque · Ana Williman · Andrea Beatriz Bartoli · Andreia Inamorato dos Santos · Andrew Moore · Ángel L. González · Anne Adams · Aras Bozkurt · Barb Brown · Beck Pitt · Ben Janssen · Bénédicte Gnangnon · Bianca Masuku · Brenna Clarke Gray · Bryan McGeary · C Ouyang · Cable Green · Carla Margenat · Carlos Goller · Carole Schorle-Stefan · Carolina Botero Cabrera · Carolina Veiga · Caroline Kuhn · Caroline Sinkinson · Catherine Cronin · Cécile Swiatek · Cengiz Hakan Aydin · Chi-Cheng Sun · Chia-An Lee · Chris Edwards · Chrissi Nerantzi · Christian M. Stracke · Christie Hurrell · Christina Riehman-Murphy · Christine Jacqmot · Christine Ollendorff · Christothea Herodotou · Chun-Hsuan Hsieh · Claire Goode · Cleo Sgouropoulou · Constance Blomgren · Cristine Gusmão · Cynthia Mari Orozco · Daniel Burgos · Daniel Gordon · Dariana Salas · Deborah Arnold · Deborah Baker ·Delaina Tonks · Denise Whitelock · Derek Moore · Diana Hernández Montoya · Dominic Orr · Dorothy Ofoha ·Eamon Costello · Earl Mentor · Ebba Ossiannilsson · Edel Gallagher · Edephonce Nfuka · Ellen Breen · Elliot Montpellier · Emily Andersen · Erica Hargreave · Eseta Tualaulelei · Fabio Nascimbeni · Fabiola Cantero Acosta · Faisal Badar · Fatima Bdair · Felix K Olakulehin · Florence Devouard · Francisco Iniesto · Gábor Kismihók · Gaby Lutgens · Garrett Graddy-Lovelace · Gema Santos-Hermosa · Geoff Cain · Gerry Hanley ·Ghada El Khayat · Gino Fransman · Glenda Cox · Grainne Conole · Han-Ju Ho · Hsu-Tien Wan · Hung-Yi Chen · Imelda Parcasio · Irwin Devries · Iván Terceros · Jacques Dang · Jako Olivier · James Brunton · James Glapa-Grossklag · Jane Anderson · Jane-Frances Obiageli Agbu · Jason Zamora · Javiera Atenas · Jennifer Miller · Jennifer Van Allen · Jessica Parsons · Jian-Wei Tzeng · Jin Gon Shon · Joan Upell · Johannes Nag ·Johannes Wendt · Jon Mason · Jonathan Lashley · Josie Milliken · Joy Shoemate · Juan José Dimuro · Judith Fathallah · Judith Pete · Judith Sebesta · Juliane Granly · Julie Erickson · Junhong Xiao · Karen Cangialosi ·Kate Lister · Kelly Liberty · Kelly McKenna · Kevin Ribble · Khehla Ndlovu · Kim Grewe · Kimberly Ernstmeyer ·Kris Stutchbury · Laís Souza Amorim · Laura Henderson · Laure Delrue-Vandenbulcke · Lauren Stieglitz · Lena Patterson · Leo Havemann · Leonardo Ribeiro da Cruz · Leontien Van Rossum · Lieke Rensink · Lilia Cheniti · Lisa Young · Liz Yata · Lizzy Garner-Foy · Lori Yearwood · Lorraine Delaney · Luca Pelerino · Magdalena Spaude · Magreth Bushesha · Maha Bali · Mais Fatayer · Mandeep Grewal · Manuel Podetti · Margaret Ebubedike · Margreta Tveisme · Maria Beebe · María Soledad Ramírez Montoya · María Viola Deambrosis · Marian Wan · Mariana Porta · Marianne Dubé · Marilou Bourque · Marjon Baas · Martijn Ouwehand · Martín Adalberto Tena Espinoza de los Monteros · Martin Dougiamas · Martin Weller · Maryanne Karamagi · Matthew Bloom · Matthew Foster ·Maui Hudson · Max Mahmoud Wardeh · Maya Anderson-Gonzalez · Mélanie Brunet · Melinda de la Pena Bandalaria · Melissa Ashman · Melissa Guadalupe Huertas · Merinda McLure · Mia Travers-Hayward · Michael Mills · Michael Paskevicius · Michel Jansen · Michele Jacobsen · Michelle Brailey · Michelle Harrison · Michelle Willmers · Miguel Ángel Pereira Baz · Mike Dawson · Mildred Acuña Sossa · Mlungisi Mhlongo · Mohamed Koutheair Khribi · Mohammadreza Tavakoli · Mojca Drevenšek · Molya Vundamina · Mona Laroussi · Monica Brown · Mpine Makoe · Muriel Pénichon · Nadine Schroeder · Naomi Lin · Naomi Wahls · Nashwa Ismail ·Nathália Larrea Montaño · Neill Wylie · Nen-Fu Huang · Nichole Saad · Nicole Neutzling · Ody Frank · Ole Fossgård · Olivier Biard · Orna Farrell · Özlem Karakaya · Paola Corti · Patricia Diaz · Paul Hodgson · Perrine de Coëtlogon · Philip Root · Phillip Anaya · Pierre Boulet · Pim Bellinga · Pr. Mohamed Jemni · Pr. Mokhtar Ben Henda · Rachel Arteaga · Rachel Rogers · Ramesh Chander Sharma · Rebecca Vasquez Ortiz · Robert Farrow · Robert Schuwer · Roberto Avila-Vázquez · Robson da Cruz de Mesquita · Roeland van der Rijst ·Romuald Ramon · Ronan Cox · Rory McGreal · Rosa Leonor Ulloa Cazarez · Salha Abdo · Sarah Hutton · Sarah Lambert ·Sarah Richard · Sarah Shaughnessy · Sarah Weston · Sebastián Zapateiro Núñez · Sharon Mizota · Shinta Hernandez · Shironica P. Karunanayaka · Silvana Realini · Simon Cross · Simonne Wood · Som Naidu ·Sophia Krah · Stacy Katz · Stephen Downes · Sue Tashjian · Suzanne Wakim · Ta-Wei Li · Tahani Aldosemani · Tannis Morgan · Tel Amiel · Tiago Soares · Tj Bliss · Tjark Huizinga · Tony Lelliott · Torunn Gjelsvik · Trish Chaplin-Cheyne · Ulf-Daniel Ehlers · Una Daly · Urooj Nizami · Vanessa Proudman · Vasanthi Hargyono ·Verena Roberts · Vi Truong · Victoria Smyth · Victoria Volkanova · Vince Mussehl · Vincent de Lavenne de la Montoise · Virginia Brussa · Virginia Poundstone · Virginia Rodés · Wayne Mackintosh · Werner Westermann ·Wiebe Dijkstra · Wilfried Admiraal · Xiangyang Zhang · Ya-Chuan Huang · Yi Yang · Yu Fang Hsu · Yu-Lun Huang · Yuliana Puerta · Yun-Ting Chang · Yves Deville · Zeynep Varoglu
* If we've inadvertently left your name off please let us know at feedback@oeglobal.org