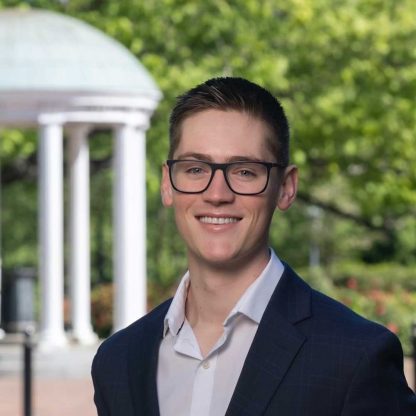 Nicholas Sengstaken
Since beginning his work in college affordability in 2016, Nicholas Sengstaken has emerged as a leading advocate for educational equity pushing back against the publishing industry's efforts to slow the adoption of OER – both at the University of North Carolina at Chapel Hill (UNC) and on the national level.
Beginning in 2017 with North Carolina PIRG, he co-authored the UNC textbook pledge which promotes more affordable and open course materials among faculty. The pledge is now regarded as one of the most successful efforts of its kind in the United States. In addition to stopping opt-out "inclusive access" (automatic billing of textbooks) at his institution and leading the charge for OER at Carolina, he was a key national spokesperson for students in opposition to the failed merger between Cengage and McGraw-Hill. Nick represented millions of American students by sharing the potentially harmful effects of the merger with the Department of Justice Antitrust team as well as media sources including the New York Times, VICE, MarketWatch, Nexstar, Inside Higher Ed, Chronicle of Higher Education, and many others.
Currently, Nick serves as a Transformation Manager at UNC serving on the Operational Excellence Team within the Office of the Chancellor. Since 2020 he has worked on numerous pan-university projects including the Carolina Together Ambassador Program, university COVID-19 response, Carolina Community Academy implementation, Promote Democracy Initiative, and university classroom operations. He enjoys collaborating with partners across campus to advance Carolina's mission through continuous improvement and data-driven problem-solving. Nick's passion for identifying, documenting, and deconstructing the social and economic barriers to positive secondary and post-secondary educational achievement has guided his work. Nick earned a Bachelor of Music and a Bachelor of Arts in Political Science from UNC Chapel Hill and is currently pursuing his Ph.D. in Educational Evaluation and Policy Analysis at North Carolina State University.
OE Awards Recognition