Gino's role in the OpenEdInfluencers project stems from well before being employed at MandelaUni, from UNISA, and University of the Western Cape since 2005.  Being an advocate for Open, and indeed for Opening Up access to free, high quality, fully accessible education resources motivated a research endeavor as a GO-GN member, as well as a student and staff developmental and empowerment initiative.
After 3 years at the institution, it became evident there was lacking progress in the awareness raising sector. Adoption, and the prime objective of generating new OER became a point where endeavours often fell short. Too many people didn't know what Open was, nor the potential of OER and Open Textbooks, especially. Gino set up an Open advocacy strategy where students would be able to take the lead in bringing this evolution in the provision of teaching and learning resources to the fore and gain work experience, and payment. Focusing attention to the efforts, successes, and greater potential the initiative offers, and to celebrate actions for Opening Up. Initially, funding was limited, so Gino embedded Open into the praxis of the writing respondents. This proved useful, but student transience made strengthening Open into institutional practice a challenge. Support from DVC Prof Foxcroft, and Directors Dr Toni, Dr Kizito and more recently Mr Dave Jenkings helped realise the mission.
Since 2019, the OpenEdInfluencers project is part of the Siyaphumelela Programme funding cycle, into 2022, via the Kresge Foundation.
The recent 2021 conference featured an institutional video which Gino produced and directed, profiling the initiatives undertaken thus far, published under CC license
This grant helped establish payment for advocacy and student work experience, and the creation of the OEI project has catapulted the project into local, national and global spaces where their work is widely recognised, and being used.
This has supported recognition and placement onto Programme Committee membership on the Open Education Global conference annually, as well as a placement to the UNESCO Open Education for a Better World Advisory Board in 2021. Gino is now a mentor to a socially relevant project, titled Peacebuilding within high-risk communities in South Africa.
See also http://openedinfluencers.mandela.ac.za/
Explore more about this award…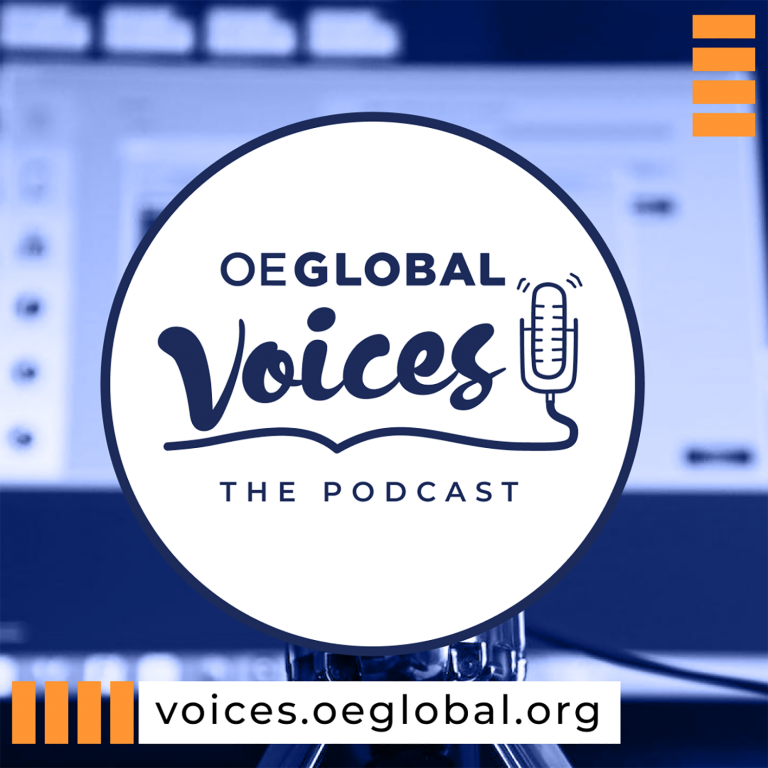 2022 – OEGlobal Voices
A Podcast from Open Education Global
OEG Voices 032: An OEweek Conversation with Gino Fransman and Werner Westermann
We hope you enjoy the energy and perspectives of our Episode 32 guests, Gino Fransman and Werner Westermann, both of them 2021 OE Award for Excellence winners. Beyond their roles as open education leaders, you will hear them talk about these commonalities we discovered in conversation:
Both live in the southernmost countries of their continent- Gino joined us from Gqeberha, South Africa and Werner was in his office in Santiago, Chile.
Both are accomplished musicians, and each shared their own openly licensed music used in the podcast.
Both are passionate about the challenges faced and accomplishments done to represent the voices of educators from the southern hemisphere.
All episodes of OEG Voices are special but this one is even more so because we recorded it as an open session during Open Education Week so thank to our five guests who listened in- Paul, Marcela, Kristin, Jöran, and Helen.
Gino Fransman, who works at Nelson Mandela University, earned a 2021 Open Education Award for Excellence as an Emerging Leader recognizing "an enthusiastic individual displaying promising leadership qualities. Someone who's advocacy and use of open education is inspiring, making them an effective spokesperson. Someone who has demonstrated a strong commitment towards its ideals or has achieved significant accomplishments."
And Werner Westermann, from the Library of Congress, Chile, was recognized with a 2021 Open Education Award of Excellence as a Support Specialist given to "an individual actively engaged in the use and promotion of OER and Open Practices. Someone, other than a professor/teacher, that supports the ideals of the Open Education movement through their own practices. "

Listen in to our dynamic conversation recorded Wednesday, March 9, 2022:
Notes and Quotes
Werner has concerns and passion for the youngest learners:
For me the little kids are my passion… they have been so punished because of the pandemic. The learning loss or the learning poverty that this generation of kids has had because of the educational disruption is something that really needs to call for action. We need to recover with a pandemic going on.

Werner Westermann
He has much enthusiasm for his work with the Kolibri Studio platform from Learning Equality which provides libraries, collections of OER designed to be used in places lacking good or any internet connectivity. Werner describes it as very lightweight, easy to use, easy to learn, and described it's newest features that can synchronize content created/updated on multiple devices.
For more, see:
Gino has a passion for promoting and making heard the student voice:
We focus so much on the teaching element but we don't see students as teachers in and of themselves. And open education allows us a lot of opportunities to motivate and empower students to be active teachers in the space of education.

Gino Fransman
This is readily seen in Gino's work leading the OpenEdInfluencers project at Nelson Mandela University He is extremely excited about the newest educational program called BOEI- Becoming an Open Education Influencer that include modules on Openness, Sharing, Advocacy, Facilitation, Influencing, and Sustainable Development Goals.
Gino shared his concerns as well for wide access to learning opportunity through open education and moving beyond the status of where in the world OER's originate.
Both guests provided thoughts on how much of the work they do and know of in their areas of the world are not as visible as they should be. They each described how education in their countries must ride out the cycles of government changeover.
Werner described many of the constraints on education in South America and his concerns about trends towards privatization of education.
How can schools not be the reproductions of all the inequalities we face? Whatever we do, we end up looking at openness to give us a light.

Werner Westermann
Gino is excited about new open textbook development projects, including one focused on open education in the performing arts, plus one for Self Coaching for students.
And because we discovered the music talents of each guest they shared their perspective on the relationship of music to open education.
I grew up on the stage, and that was what I was going to do… My masters looked at performance as a gateway to look at identity amongst the youth…

[Music is] a bunch of different elements you put together. If you can make someone move or tap their feet, then you've done something right.

Gino Fransman
Music is like open education, it's a labyrinth that you don't know where it ends, you circle around looking for something. I think music is the way to to to find something you have not found yet. Creating songs … to create a good song, it is so difficult. It's a mystery. I've been chasing it for many years– I have five records, but I have not mastered it yet. It's a constant way of looking for something we have not found. And that drives you to sit down and write.

Werner Westermann
You will here bits of Gino's and Werner's music in the podcast introduction and edits, both tracks are licensed Creative Commons BY-NC.
Gino's track has a Latin feel to it…
Werner shared the story behind the track we chose called Autorrertrato (Self-Portait). The lyrics are from a poem by Parra Nicanor that describes a teacher who is looking at their practice. The name for Werner's music group, Gerontofobia. translates as "fear of getting old" – which, if you listen to Werner speak, he should have no concern about.
Thank you again, Gino and Werner for this lively conversation as an Open Education Week event. And they added a recording to the Voice Mixer used to generate our introduction, featuring the voices of Alex E, Ajita D, Igor L, Nicole N, Clint L, Lori-Beth L, Gino F, Shannon S, Isla H-F, Werner W, Judith S, Verena R, Rajiv J, and Shinta H.